"The vision of the Director should be at once precise like that of a scientist, and spiritual like that of a saint. When the Director finds joy in observing the inner life of the child then she has begun to become a teacher."
To really genuinely know a child, that's the role of the Director. Match this with careful preparation of the environment and learning pitched at just the right level of challenge and the conditions are set for children to thrive. The Director is the bridge between the child and the environment, supporting the child's activities within the environment.
The Director is trained as an astute observer, to recognize the strengths and needs of every child as well as the whole group. This allows the Director to present materials and activities at the right time and to know when to intervene, help or stand back to let learning occur naturally.
A Montessori Classroom
Give your child an education that is beyond imagined. Learn about how we embrace your child's individuality while nurturing ways to explore a deep and meaningful understanding of the world around them. See how they learn to become independent learners from a young age.
Meet the Team…
To view a team member's biography, select their photo
Denice Scala is an executive leader who specialises in assisting organisations to discover their true purpose and pathway to their preferred future.
As a passionate advocate for the power of education to enrich lives, Denice moved from classroom teaching to leadership positions in 1992 and since then has held international roles in Scotland and Australia as Principal, Head of Junior School, and Head of Learning Support. She has an impressive working knowledge of early learning, primary, middle, and secondary schooling including gifted education and special needs. Denice's unparalleled grasp of current educational realities is equally matched by her ability to implement improvement strategies.
Following a degree in education from Stirling University, Scotland, she now holds qualifications in Special Education from the Royal Society of Arts, a Masters in Gifted Education from UNSW and a Certificate in Neuroscience from Flinders University Denice was one of ten principals to join Principals' Australia Institute as a member of the National Principal Certification Design Team in 2015. She loves working with educators, inspiring growth by applying holistic, innovative solutions incorporating her expertise in neuroscience, MBTI® and LEGO® SERIOUS PLAY® to support professional development. Denice is motivated by finding ways to ensure children thrive.
"Montessori makes sense. It's a powerful educational philosophy backed by well-considered teaching methods. The approach plays to children's innate strengths-regardless of their age or abilities-without competitive pressure. It's magical to observe the learning in action and the talented educators guiding children to embrace independence."
Anthony is a child-centred educator who specialises in guiding children to discover their potential in the spirit of the Montessori legacy. He is proficient in providing leadership to staff and service to children in a wide variety of educational settings in a career spanning 35 years. Anthony is currently working with children at the 6-12 years of age level and with parents and staff as Deputy Principal and Head of Montessori Teaching and Learning.
Anthony's first degree is from the former Guild Teachers' College Sydney, gaining a Diploma of Teaching in the early 1980's. The Guild specialised in preparing teachers for the independent sector of education, giving students the opportunity to experience teaching in a variety of settings from parent run democratic schools, to alternatives such as Steiner and Montessori, through to the small and large independent religious schools.
Over the years Anthony has broadened his professional knowledge by completing a Bachelor of Education and a Graduate Diploma in Education Studies. He has also been an active member of a number of professional teacher organisations including the Primary English Teaching Association Australia, Australian Literacy Educators' Association, NSW Computer Education Group and the Australian Science Teachers Association. This led to the position of Primary Curriculum Adviser – Science and Technology and English. This involved the delivery and implementation of the NSW Science and Technology (1990) and English (1993) curriculum documents to 50 primary schools in the Catholic Diocese of Parramatta.
On a sabbatical to the UK in 1992 to research the National Curriculum Design and Technology implementation, Anthony visited a number of government and non-government schools. It was by chance that his visit included a Montessori school. This was a life-changing moment to see in action real hands-on learning with real purpose. This experience planted the seed to pursue a career in Montessori education.
In September of 1994 Anthony began the 34th A.M.I. Montessori Elementary Diploma Course at the International Centre for Montessori Studies Foundation, Bergamo, Italy. He was fortunate to be part of the course which was Co-directed by Camillo Grazzini and Baiba Krumins Grazzini. The late Mr Grazzini is remembered as working side by side with Mario Montessori in designing and developing the elementary materials and lessons; and carrying forth the work of Maria and Mario Montessori. The course was transformational. Anthony recalls, "Everything you thought you knew about education and teaching was turned upside and on its head; a process of unlearning and renewal. The most delightful moment was when Mr Grazzini, in a child-like and mischievous manner, performed the 'Dance of the Earth' as it spun on its axis and 'danced' it's orbit around the sun. This is just one of the precious gifts we were given as students as the year of unfolded".
On return from Italy late in 1995, Anthony took the position of 9-12 Director at Southside Montessori School, Riverwood. Here he was able to 'unpack' the many great stories and lessons that make up the elementary curriculum and refine his practice. In 2000 he accepted the role of Principal overseeing a period of strong enrolment growth and renewal.
In 2006 Anthony joined the staff of Forestville Montessori School as 6-9 Director Killarney Heights Campus. To Anthony, being off-site with an Assistant and 20 children, in a 'A' frame building was like being in a small country school. It is here that he truly developed his understanding of 'auto-education', independence and the Montessori method. 2011 saw a move to the main campus and into a new classroom with an amazing growth in student numbers to 38 children over the next few years.
Forestville Montessori School has provided Anthony with numerous experiences for professional growth including Curriculum Coordinator, Deputy Principal and Head of Montessori Teaching and Learning. It is an exciting place to be as it goes through its next phase of school renewal.
Alex is a highly-regarded Montessori guide and Early Childhood educator. He has over seventeen years experience in various child education settings, with fourteen of these in Montessori. After completing his AMI 3-6 Diploma in Sydney in 2007, he worked in both public (charter) and private Montessori schools in California, USA. On return to Australia, he worked with the Montessori Children's Foundation across the country, including supporting community efforts to implement Montessori education in remote Aboriginal communities. He moved to Sydney in 2012 to take up directing and coordinating roles at Lindfield Montessori Pre-School, then Montessori East (Bondi). Most recently, he has been Educational Leader and Lead Director at the Central Coast Montessori School on the New South Wales Central Coast.
Alex's passion is creating learning environments specifically tailored for the developmental needs of birth to 6 year olds, as well as forming collaborative relationships with staff. His understanding of children and how to cater to their needs is all-embracing. In all of his schools, he has gained a reputation as someone that parents can seek out for guidance and support.
Alex also holds a Bachelor of Teaching (Early childhood Education) from James Cook University, Suzuki Music Teacher Level 1 and 2 and has completed the Resources for Infant Educarers (RIE) Foundations course which focuses on providing for under 3 year olds in physically safe, cognitively challenging and emotionally nurturing ways.
Alex joined our team on Monday 29th April 2019. He leads our Under-3 programs and works alongside our 3-6 Directors in the Pre-Primary. He supports the Birth-to-6 programs on a day to day basis, while providing leadership to all staff alongside Denice Scala, our CEO/Principal and Anthony Milano, our Deputy Principal, to implement our strategic plan, Beyond Today.
With over 25 years' engagement in Montessori, it is safe to say that Sarah is fully committed to the values and concepts underpinning Montessori education! She has worked with children in Montessori environments as a class director, as well as leadership roles such as curriculum coordinator and inclusive education coordinator, and also as a parent.
Sarah holds various Montessori (Birth-3, 3-6, 6-12 years) and traditional qualifications (Teaching Degree, Master of Inclusive Education and leadership, Certificate 4 in Training and Assessment).
Sarah is currently enjoying working at Forestville Montessori School part time in the capacity of Montessori Inclusion Coordinator whilst studying a PhD on Montessori Leadership.
"I strongly believe that a Montessori environment supports each growing child (and family) to broaden and strengthen their development leaving them ready to make a great contribution to our world."
Christine Wright considers the guidance of understanding and respecting of children and families from different cultures/socioeconomic backgrounds as a vital part of her work. She is an advocate for children's rights and early childhood education. She believes it is important for herself as a professional, the parents and co-workers to join together for the development of the child.
Christine has a Bachelor of Education in Early Childhood Teaching at Charles Sturt University in Bathurst, Sydney. She has a Certificate lll in Children's Services. She has a Diploma of Education 0-12. She holds an AMI 3-6 Diploma from AMI in Australia. She looks forward to further Professional development in the near future.
She is married with four children and values Montessori education, therefore, invested her children at Montessori schools both in England and in Australia. She is proud that one of her daughters holds a Pre and Primary degree in Education and is also an educator at Forestville Montessori School. Christine feels privileged to be involved at Forestville Montessori School for the last 22 years.
The Montessori Method of education, developed by Dr Maria Montessori, is a child-centred educational approach based on scientific observations of children from birth to adulthood…It is an approach that values the human spirit and the development of the whole child-physical, social emotional and cognitive.
"The Montessori approach to education, inspires children towards a lifelong love of learning, by following their natural development trajectory. I have observed children becoming confident, responsible, independent learners, who trust in their own abilities."
Natasha Williams is a dedicated Early Childhood Teacher who is passionate about guiding children to realise their potential by supporting developmental needs and incorporating their interests to foster independent learners.
Following a notable career as an officer in the military, Natasha completed her Graduate Diploma in Early Childhood Teaching at Edith Cowan University in WA, she has a certificate III in Children's Services and has an AMI 3-6 Diploma from the Maria Montessori Institute (AMI) in London. She looks forward to further study in the near future. She has worked in Montessori schools in London and Australia before taking a position at Forestville Montessori School.
She considers herself very lucky to be able to spend her days observing and guiding the discoveries of the child as they explore and interact with their environment. She enjoys reflecting on her practise and reading for professional development in Early Childhood theory and practise. Her husband and 2 daughters enjoy travelling as a family, connecting with nature by camping, bushwalking, skiing and long days at the beach.
"Montessori is a method of education that embraces and celebrates the child and all their innate capacities for self-directed learning. It supports the individual in a social context and the result is a happy and involved learner who is confident in their choices, connected to others and who thinks 'I can!'."
Pippa is dedicated to providing a nurturing, beautiful and enriching environment in the children's House for 3-6 year olds. The ideal environment is child focussed, fostering independence, curiosity and a lifelong love of learning through the Montessori Method.
Having worked in the field of childcare for over 30 years, nannying, as a Play Therapist in the children's ward of a hospital and in Montessori at Forestville for over 17 years, Pippa is highly experienced in her craft.
She was born in the North of England, migrating to Australia at the age of 7. She comes from a large family being the fourth child of seven siblings.
She holds a Bachelor of Teaching (Birth to 5 years) from Charles Sturt University. Her Montessori training was completed in 2000 when she obtained an Association Montessori Internationale Diploma studying the principles and practices of the Montessori method for children from 3 to 6 years of age.
On a person level, Pippa has a wide range of interest including amateur musical theatre, singing, reading and keeping fit. She is well known as someone who loves to tend to the gardens at FMS.
Pippa enjoys guiding children towards self-belief and a willingness to try anything. She particularly enjoys sharing her passions for gardening and the outdoor environment.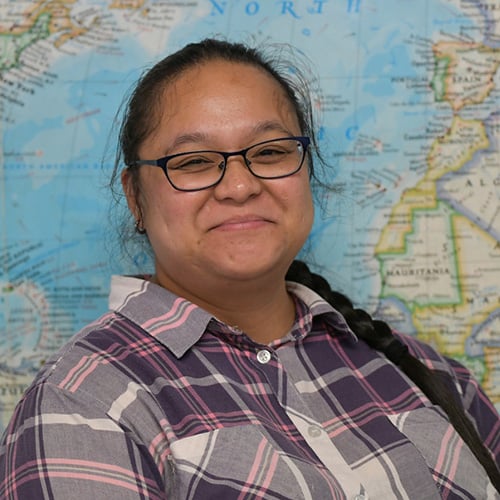 Xarifa Gabales is passionate about education and supporting others in finding their strengths and encouraging their interests.
As a child, Xarifa attended Montessori schools in the Philippines, United States of America, and Australia. After graduating high school and beginning her undergraduate degree, Xarifa worked as an assistant in different 3-6, 6-9, and 9-12 classroom environments. As she worked with children of varying age groups, Xarifa found herself keenly interested in pursuing a teaching career as a Montessori teacher.
Xarifa completed a Bachelor of Science with a Major in Psychology and a Master of Teaching as her undergraduate and post graduate courses at the University of Sydney.
Xarifa is an AMI trained 6-12 teacher. She completed her 6-12 AMI course in Bergamo, Italy in the 2009/2010 training year. In her teaching career, Xarifa has taught in both 6-9 and 9-12 classes, though her current class is a 6-9 class.
Through her extensive experience of Montessori from the point of view of a former student, an assistant, and a classroom Directress, as well as her understanding of Child and Developmental Psychology, Xarifa works to support the educational needs of the students in her classroom.
The Montessori Philosophy is not just about educating children in academic ways, as many different kinds of education systems do, but it is about creating a content, functional, productive, and entire human being who can contribute positively to the society in which they belong.
As Maria Montessori said: "Joy, feeling one's own value, being appreciated and loved by others, feeling useful and capable of production are all factors of enormous value for the human soul."
Mareike has had a very multicultural upbringing. She grew up in Mexico, and has lived in Germany, the United States of America, France and currently in Australia. As a result, she speaks four languages fluently.
As a child, Mareike attended a Montessori school from ages 0 to 12 in Mexico. Following High School, Mareike obtained a Psychology degree and specialised in children's education in University Anáhuac de Cancún, Mexico. During her degree, Mareike's interest in education flourished, so she decided to continue her education by commencing the Montessori teachers training. She obtained her AMI 6 to 12 Montessori training from the Hershey Montessori Training Institute of Mexico.
Mareike has since worked as Co-Directress of a 6 to 9 environment at the Bilingual Montessori School of Paris for three years. She is now working in a 9 to12 environment as a Co-Director at FMS.
Mareike is currently working as a Montessori consultant in the writing of a series of Montessori activities books in French called "65 Activitiés pour les 6-12". Mareike not only teaches with her mind but also with her heart.
Biography intentionally left blank.
Lau-Chi Stevenson has been the Languages Other Than English (LOTE) Teacher teaching Japanese from Level 1 Level 6 students.
Lau-Chi Stevenson has acted as substitute teacher for Japanese in Hobart, Tasmania in late 1980's and early 1990's working mainly with Level 7 & 8 students. She has started a permanent part-time position with Forestville Montessori School from 2003 to present, teaching Japanese.
Lau-Chi Stevenson holds a Bachelor Degree in Arts majoring in Japanese and Administration and a Diploma of Education from the University of Tasmania.
Lau-Chi Stevenson is a native Chinese, speaking Cantonese throughout her childhood and adolescent while acquiring English as her second language in primary and secondary school in Hong Kong. She used her second language to learn her third language (Japanese) in her university years in Tasmania.
She knows how to teach a language through learning it step by step herself and appreciates the difficulties in acquiring it. The aim of the LOTE program is to foster an interest in learning a language through fun and purposeful ways in order for the child to pursue it after primary schooling.
"Our aim is not merely to make the child understand, and still less to force him to memorize, but so to touch his imagination as to enthuse him to his innermost core" Dr Maria Montessori.
Before emigrating to Australia with her family in 2010, Ishbel commenced her Early Years career in England where she was a Manager at Plus Three Nurseries Preschool.
Ishbel worked as a Group Leader and Supervisor at Belrose Kindergarten for six and a half years.
Ishbel holds a CACHE Level 2 and CACHE Level 3 Diploma in Children's Learning and Development and is very excited to be starting a Montessori, Birth to Three course in September 2019.
Ishbel loves to read and has learnt much through Maria Montessori's written work and is amazed that her work 100 years on is still relevant to our present modern day lives.
Mag is a dedicated Montessori trained educator and assistant with over 30 years' experience in working with children aged from birth to six year old. She has worked in the UK, Saudi Arabia and Australia. She collaborates and shares responsibility of running a classroom of 20 children in a three to six learning environment. Mag provides up to date assessments of each child termly, and supports in parent/teacher conferences and parent education evenings.
Mag has the ability to initiate, organise and implement an instructional program to adapt the learning environment for each child. Her desire is to make the children feel motivated and to fulfil their academic potential and love of learning. The diversity that she has experienced within a variety of countries, provides the classroom with a holistic educational experience.
Mag has a Montessori diploma from St. Nicholas Training centre in London UK. She is currently working towards a Bachelor of Education in Early Childhood (0-8) which she aims to complete at the beginning of 2020.
Mag has the ability to support specialized learning needs to individual students to further allow for achievements to occur, and is flexible to jump from assistant to educator in the class when required.
"The child's development follows a path of successive stages of independence, and our knowledge of this must guide us in our behaviour towards him. We have to help the child to act, will and think for himself. This is the art of serving the spirit, an art which can be practised to perfection only when working among children." The Absorbent Mind.
Stephanie is continuously astonished how a Montessori education allows the children to learn with the chosen materials at their own pace in a safe, fun, loving, hands-on prepared environment either independently or with others.
"The three-year-age group in each class allows a family-like grouping where learning can take place naturally. The aim is to encourage active, self-directed learning and to strike a balance of individual mastery with small group collaboration with in the whole group community. More experienced children share what they have learned while strengthening their own learning. Since this peer group learning is innate to Montessori, there is often more conversation-language experiences-in the Montessori classroom than in conventional early education settings."
Akari has a passion to work closely with children to help them develop and progress. As a mother of 2 children, she has acknowledged that adults are there to help the children to learn but us adults can learn a lot from them. Montessori inspires her to build up on her knowledge of education and learning. She loves being around the children at Montessori, having the close connection, trust and most of all fun!
Akari has been working in Forestville Montessori since 2016. She has been privileged to assist in all the classrooms of age 0-3 and 3-6. Working alongside the Directress and various age groups inspires her to be more flexible in adapting to the needs of each class. Likewise, greatly encourages her to learn more about the Montessori curriculum. Akari also has experience in working with special needs children.
Akari has a Certificate 3 in education support and certified in first aid, CPR as well as anaphylaxis.
Lauren Wright is taking study leave during 2019 to complete her Montessori 6-12 Diploma (AMI) and Montessori Foundation Course.
Lauren Wright is a passionate, hard- working individual that loves working with children, parents and educators.
Lauren was born in England and attended a 0-3 program at The Rocking Horse Montessori School before migrating to Australia. As a young toddler, Lauren attended Forestville Montessori Pre-School. At age 17, she decided to apply to study teaching at University, through her love in Montessori education, nannying and babysitting throughout the years. After graduating with a Bachelor of Education, she worked in Early Childhood Education specialising in Special Needs. Lauren applied to work at Forestville Montessori school in 2015 as a causal. Lauren worked as an assistant across both 6-12 classes and was eventually asked to work full-time at the school. Currently, this is Lauren's 4th year as a permanent teaching assistant at Forestville Montessori School and she is working in the 6-9 environments.
Lauren attended Brigidine Catholic Girls High School. She then studied at Notre Dame University and graduated with a Bachelor of Education in Birth- twelve years. Lauren has experience in hospitality, with a certificate of RCG/ RSG. Lauren also has a current certificate of First Aid with Allen's Training.
Lauren loves working collaboratively with educators who are also passionate about what they do, communicating with parents and empowering young children. Lauren enjoys applying holistic, creative programs with children to support and motivate their individual growth and love of learning.
The child absorbs knowledge from his environment simply by living – "We adults acquire knowledge with our intelligence, whilst the child absorbs with his whole psychic life…The impressions not only penetrate into his mind, they form it; they become incarnate".
Biography intentionally left blank.
In her role as Stakeholder and School Relations Coordinator, Alena provides a high level of customer service in the coordination of our enrolment and admissions process coupled with a focus on building relations with all of our families. In addition, Alena works on promoting our school to the wider community through the management of the marketing activities implemented throughout each year.
Alena has 14 years' experience in marketing and project/events management, both in Australia and the UK, with the majority of that time spent working for the Australian horticultural industry.
Alena really enjoys working at Forestville Montessori School and enjoys connecting with the lovely families that form part of our school community.
Jacqui's role is Administration Assistant. She is responsible for the overall effectiveness of student and curriculum organisation, school logistics and the smooth running of day to day operations. She will play a key role in managing all processes related to your children. Everything from data collection to excursions, reports, IEP's, and student welfare.
Jacqui has a Bachelor of Media and Cultural Studies from Macquarie University and experience as an Executive assistant and team administration in large corporate companies including engineering, investment banking, HR and management consultancies, here in Sydney and in London.
Brodie Boon is our receptionist.
Brodie is used to working in busy environments and is an expert multi-tasker, with many years experience in the advertising industry and having worked as an executive assistant for a large media company. Brodie is your first point of call and will be managing day to day enquiries and liaising with staff on your behalf. Brodie feels very privileged to be part of such a lovely school community.
A chartered accountant, with over 15 years experience in the financial services industry in Australia and the United Kingdom, Ellena has worked with a wide range of clients from large banking corporations to small business and individual families.