"The vision of the Director should be at once precise like that of a scientist, and spiritual like that of a saint. When the Director finds joy in observing the inner life of the child then she has begun to become a teacher."
To really genuinely know a child, that's the role of the Director. Match this with careful preparation of the environment and learning pitched at just the right level of challenge and the conditions are set for children to thrive. The Director is the bridge between the child and the environment, supporting the child's activities within the environment.
The Director is trained as an astute observer, to recognize the strengths and needs of every child as well as the whole group. This allows the Director to present materials and activities at the right time and to know when to intervene, help or stand back to let learning occur naturally.
A Montessori Classroom
Give your child an education that is beyond imagined. Learn about how we embrace your child's individuality while nurturing ways to explore a deep and meaningful understanding of the world around them. See how they learn to become independent learners from a young age.
Meet the Team…
To view a team member's biography, select their photo
Denice Scala is an executive leader who specialises in assisting organisations to discover their true purpose and pathway to their preferred future.
As a passionate advocate for the power of education to enrich lives, Denice moved from classroom teaching to leadership positions in 1992 and since then has held international roles in Scotland and Australia as Principal, Head of Junior School, and Head of Learning Support. She has an impressive working knowledge of early learning, primary, middle, and secondary schooling including gifted education and special needs. Denice's unparalleled grasp of current educational realities is equally matched by her ability to implement improvement strategies.
Following a degree in education from Stirling University, Scotland, she now holds qualifications in Special Education from the Royal Society of Arts, a Masters in Gifted Education from UNSW and a Certificate in Neuroscience from Flinders University Denice was one of ten principals to join Principals' Australia Institute as a member of the National Principal Certification Design Team in 2015. She loves working with educators, inspiring growth by applying holistic, innovative solutions incorporating her expertise in neuroscience, MBTI® and LEGO® SERIOUS PLAY® to support professional development. Denice is motivated by finding ways to ensure children thrive.
"Montessori makes sense. It's a powerful educational philosophy backed by well-considered teaching methods. The approach plays to children's innate strengths-regardless of their age or abilities-without competitive pressure. It's magical to observe the learning in action and the talented educators guiding children to embrace independence."
Anthony is a child-centred educator who specialises in guiding children to discover their potential in the spirit of the Montessori legacy. He is proficient in providing leadership to staff and service to children in a wide variety of educational settings in a career spanning 35 years. Anthony is currently working with children at the 6-12 years of age level and with parents and staff as Deputy Principal and Head of Montessori Teaching and Learning.
Anthony's first degree is from the former Guild Teachers' College Sydney, gaining a Diploma of Teaching in the early 1980's. The Guild specialised in preparing teachers for the independent sector of education, giving students the opportunity to experience teaching in a variety of settings from parent run democratic schools, to alternatives such as Steiner and Montessori, through to the small and large independent religious schools.
Over the years Anthony has broadened his professional knowledge by completing a Bachelor of Education and a Graduate Diploma in Education Studies. He has also been an active member of a number of professional teacher organisations including the Primary English Teaching Association Australia, Australian Literacy Educators' Association, NSW Computer Education Group and the Australian Science Teachers Association. This led to the position of Primary Curriculum Adviser – Science and Technology and English. This involved the delivery and implementation of the NSW Science and Technology (1990) and English (1993) curriculum documents to 50 primary schools in the Catholic Diocese of Parramatta.
On a sabbatical to the UK in 1992 to research the National Curriculum Design and Technology implementation, Anthony visited a number of government and non-government schools. It was by chance that his visit included a Montessori school. This was a life-changing moment to see in action real hands-on learning with real purpose. This experience planted the seed to pursue a career in Montessori education.
In September of 1994 Anthony began the 34th A.M.I. Montessori Elementary Diploma Course at the International Centre for Montessori Studies Foundation, Bergamo, Italy. He was fortunate to be part of the course which was Co-directed by Camillo Grazzini and Baiba Krumins Grazzini. The late Mr Grazzini is remembered as working side by side with Mario Montessori in designing and developing the elementary materials and lessons; and carrying forth the work of Maria and Mario Montessori. The course was transformational. Anthony recalls, "Everything you thought you knew about education and teaching was turned upside and on its head; a process of unlearning and renewal. The most delightful moment was when Mr Grazzini, in a child-like and mischievous manner, performed the 'Dance of the Earth' as it spun on its axis and 'danced' it's orbit around the sun. This is just one of the precious gifts we were given as students as the year of unfolded".
On return from Italy late in 1995, Anthony took the position of 9-12 Director at Southside Montessori School, Riverwood. Here he was able to 'unpack' the many great stories and lessons that make up the elementary curriculum and refine his practice. In 2000 he accepted the role of Principal overseeing a period of strong enrolment growth and renewal.
In 2006 Anthony joined the staff of Forestville Montessori School as 6-9 Director Killarney Heights Campus. To Anthony, being off-site with an Assistant and 20 children, in a 'A' frame building was like being in a small country school. It is here that he truly developed his understanding of 'auto-education', independence and the Montessori method. 2011 saw a move to the main campus and into a new classroom with an amazing growth in student numbers to 38 children over the next few years.
Forestville Montessori School has provided Anthony with numerous experiences for professional growth including Curriculum Coordinator, Deputy Principal and Head of Montessori Teaching and Learning. It is an exciting place to be as it goes through its next phase of school renewal.
Emma has over 15 years' experience as an Early Childhood educator at Computer Associates Montessori Children's Centre. For the past 7 years she has held leadership roles managing toddler programs, preparing the environment and mentoring staff in the Montessori philosophy and approaches.
She holds a Bachelor of Science in Human Ecology from the University of the Philippines where she majored in Family Life and Child Development and a Masters of Early Childhood Education from Macquarie University. She completed her AMI diploma (0-3) in Sydney in 2006 and her AMI Assistants Course (3-6) in 2016. She is currently in the AMI Training of Trainers Program for Assistants to Infancy level.
In addition to teaching, Emma is also the author of a website, Daily Montessori that aims to educate parents and interested educators in practical ways to implement Montessori at home.
Emma has two primary age children Tanna aged 11 and Clarey aged 7. They have attended Montessori Long Day care and live the Montessori philosophy at home.
Emma currently works four days a week, Tuesday to Friday. She will lead the Toddler 2-3 Program whilst working alongside all staff in our Birth to 6 Community continuing to ensure we offer programs of exceptional quality for our students.
"It excites me to meet new families that are committed to the Montessori philosophy. The role offers a great opportunity to be able to contribute to the ongoing growth of the child from the foundation (birth- 3) and see how it can continue all the way through the first plane of development. I have always been passionate about working with infants, toddlers and their families and finding ways to developing meaningful engagement and relationships. I am also looking forward to collaborating with Matty and learning from her knowledge and experience."
Kirsti is the Business Manager at Forestville Montessori School. She is responsible for the management and oversight of the Finance and Administration functions at FMS.
Kirsti is a CPA qualified accountant with over 20 years' experience in commercial finance roles, with the majority of that time in the property industry. Over the past 10 years, Kirsti has concentrated on project and change management for process improvements and technology implementations in large organisations.
Kirsti holds a Bachelor of Economics and Master of Accounting from Macquarie University and is a Fellow of CPA Australia.
Kirsti has always admired the Montessori approach and has some insight into the school as her aunt helped to establish Northside Montessori in 1978 in order for her children to attend a Montessori school. Kirsti is looking forward to getting to know the families and being a part of the FMS community.
.
Christine Wright considers the guidance of understanding and respecting of children and families from different cultures/socioeconomic backgrounds as a vital part of her work. She is an advocate for children's rights and early childhood education. She believes it is important for herself as a professional, the parents and co-workers to join together for the development of the child.
Christine has a Bachelor of Education in Early Childhood Teaching at Charles Sturt University in Bathurst, Sydney. She has a Certificate lll in Children's Services. She has a Diploma of Education 0-12. She holds an AMI 3-6 Diploma from AMI in Australia. She looks forward to further Professional development in the near future.
She is married with four children and values Montessori education, therefore, invested her children at Montessori schools both in England and in Australia. She is proud that one of her daughters holds a Pre and Primary degree in Education and is also an educator at Forestville Montessori School. Christine feels privileged to be involved at Forestville Montessori School for the last 22 years.
The Montessori Method of education, developed by Dr Maria Montessori, is a child-centred educational approach based on scientific observations of children from birth to adulthood…It is an approach that values the human spirit and the development of the whole child-physical, social emotional and cognitive.
"The Montessori approach to education, inspires children towards a lifelong love of learning, by following their natural development trajectory. I have observed children becoming confident, responsible, independent learners, who trust in their own abilities."
Ellen has a Bachelor of Early Childhood Studies from Monash University and an AMI 3-6 Montessori Diploma, and is passionate about working with young children in Montessori settings.
Ellen recently returned from a year in Seoul, South Korea where she worked at the Kids of the Nations International School as the 3-6 Directress.
She is fluent in spoken and written English and Korean. Prior to joining our team, Ellen was a 3-6 Directress at CA Montessori Children's Centre.
Ellen's personal interests include crochet and snowboarding and travelling.
.
Bonnie Chiu believes in the importance of building relationships with children and their families, she likes to provide an environment that supports the children's learning and empowers them to contribute to it, encouraging them to discover and problem solve through their everyday play.
Bonnie's has a Bachelor of Education (Birth to Five) With Distinction from Charles Sturt University. She has a Diploma of Children's Services (Early Childhood Education and Care) with Distinction and a Certificate 3 in Children's Services.
Bonnie has over 21 years of experience working with children and has worked at Forestville Montessori School since May 2003. She loves to see the joy on her student's faces as they explore their learning environments. Bonnie believes in the importance of embedding Indigenous perspectives in the children's learning program, and enjoys guiding them to write and create picture books for the classroom.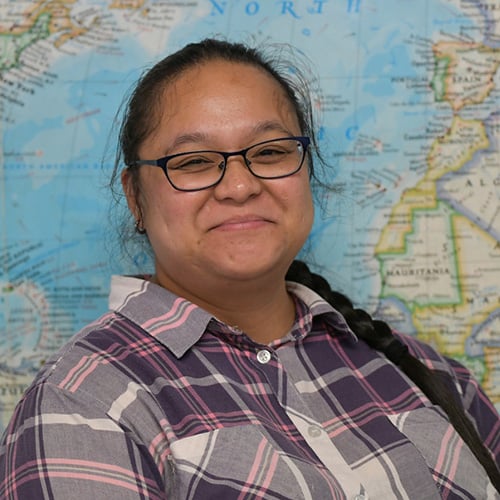 Xarifa Gabales is passionate about education and supporting others in finding their strengths and encouraging their interests.
As a child, Xarifa attended Montessori schools in the Philippines, United States of America, and Australia. After graduating high school and beginning her undergraduate degree, Xarifa worked as an assistant in different 3-6, 6-9, and 9-12 classroom environments. As she worked with children of varying age groups, Xarifa found herself keenly interested in pursuing a teaching career as a Montessori teacher.
Xarifa completed a Bachelor of Science with a Major in Psychology and a Master of Teaching as her undergraduate and post graduate courses at the University of Sydney.
Xarifa is an AMI trained 6-12 teacher. She completed her 6-12 AMI course in Bergamo, Italy in the 2009/2010 training year. In her teaching career, Xarifa has taught in both 6-9 and 9-12 classes, though her current class is a 9-12 class.
Through her extensive experience of Montessori from the point of view of a former student, an assistant, and a classroom Directress, as well as her understanding of Child and Developmental Psychology, Xarifa works to support the educational needs of the students in her classroom.
The Montessori Philosophy is not just about educating children in academic ways, as many different kinds of education systems do, but it is about creating a content, functional, productive, and entire human being who can contribute positively to the society in which they belong.
As Maria Montessori said: "Joy, feeling one's own value, being appreciated and loved by others, feeling useful and capable of production are all factors of enormous value for the human soul."
Emily has extensive experience and knowledge of child development. She holds a Bachelor of Science and Psychology Major from New South Wales University and a Master of Teaching (Primary) from University of Sydney. Whilst taking time to raise her three daughters, Emily completed a Diploma of Satyananda Yoga Training (The Yoga Academy is registered in NSW as a Registered Training Organisation (RTO) and it's Diploma of Satyananda Yoga Teaching is accredited under the Australian Qualification Framework. It is Vetab Accredited.)
Earlier in her career, Emily received the Award for Excellence for Teachers in their Beginning Years, from the NSW Independent Schools Teachers Guild. At her previous school, Emily introduced Science Fairs, created exploration spaces and exhibits within the school to nurture curiosity and scientific questioning, co-authored a middle school science curriculum, and led investigation groups. She worked closely with other staff in the multi-age investigation programs providing children with opportunities to delve into deep and purposeful work.
Emily brings her yogic background to offer opportunities for our students across Lower (6-9 Years) and Upper Primary (9-12 Years) to explore learning and wellbeing through strength and movement, integrating storytelling, breathing, relaxation and self-awareness practices.
Tamlin Howard is a dynamic visual arts and sports educator who is committed to building positive relationships and dedicated to guiding children to be creative, active and love learning.
23 years ago, Tamlin began his journey of working with children in play environments and supporting children with special needs. He discovered the joys of Montessori education working at Southside Montessori in 2001 and has strived to enable children to become independent and motivated learners ever since.
Tamlin spent a decade teaching secondary visual arts and photography in London where he was key in leading and developing innovative A level courses and programs that fostered a pathway for young artists into a career in visual arts. Tamlin is delighted to be back in Montessori education and has enjoyed four adventure packed years at FMS where he is fortunate enough to work fluidly across subjects and age groups on collaborative and whole school projects teaching his two passions in life; sport and art.
Following a Foundation in Art and Design at Chelsea Collage and a BA Hons in Fine Art at Southampton specialising in painting, Tamlin went on to complete a Post Graduate Certificate in Education specialising in Art and Design at Middlesex University.
Tamlin holds coaching certificates in: Netball, Volleyball, Soccer, Softball, Basketball, Tennis, Cricket, Bowls, Gymnastics, Hockey and Athletics and is fully dedicated to any ongoing professional development that benefits the children at the school.
Tamlin is a Montessori parent and educator who loves being a member of a positive school community that nurtures every child, promoting their individual strengths and interests enabling leadership and opportunities for success for all.
Lau-Chi Stevenson has been the Languages Other Than English (LOTE) Teacher teaching Japanese from Level 1 Level 6 students.
Lau-Chi Stevenson has acted as substitute teacher for Japanese in Hobart, Tasmania in late 1980's and early 1990's working mainly with Level 7 & 8 students. She has started a permanent part-time position with Forestville Montessori School from 2003 to present, teaching Japanese.
Lau-Chi Stevenson holds a Bachelor Degree in Arts majoring in Japanese and Administration and a Diploma of Education from the University of Tasmania.
Lau-Chi Stevenson is a native Chinese, speaking Cantonese throughout her childhood and adolescent while acquiring English as her second language in primary and secondary school in Hong Kong. She used her second language to learn her third language (Japanese) in her university years in Tasmania.
She knows how to teach a language through learning it step by step herself and appreciates the difficulties in acquiring it. The aim of the LOTE program is to foster an interest in learning a language through fun and purposeful ways in order for the child to pursue it after primary schooling.
"Our aim is not merely to make the child understand, and still less to force him to memorize, but so to touch his imagination as to enthuse him to his innermost core" Dr Maria Montessori.
Dharini holds a Bachelor of Science in Psychology, awarded in 1995. from the University of New South Wales. She completed her Montessori studies with the American Montessori Society (New York, NY), in 1997. She also holds a Certificate III in Children's Services. More recently she has combined her studies with working at FMS as an Assistant in the Pre-School (3-6 Years). In 2020, she completed her Graduate Diploma, Special Needs from Macquarie University.
Dharini is passionate about the benefits of Montessori education. As Inclusive Education Coordinator, she will combine her extensive Montessori knowledge of child development with her expertise in special needs to further individualise students' learning programs. The role works in partnership with teaching staff to design best practice learning programs, achieve the highest standards of Grace and Courtesy and respond to students' special interest.
Born in Sri Lanka, she emigrated to Australia in 1988. She has 2 children , Maya who is a first year student at ANU and Mira who is in year 8 at Chatswood High School.
As an educator, she believes in the Montessori philosophy of "help me to help myself" and derives satisfaction in guiding each child to achieve this goal.
Mag is a dedicated Montessori trained educator and assistant with over 30 years' experience in working with children aged from birth to six year old. She has worked in the UK, Saudi Arabia and Australia. She collaborates and shares responsibility of running a classroom of 20 children in a three to six learning environment. Mag provides up to date assessments of each child termly, and supports in parent/teacher conferences and parent education evenings.
Mag has the ability to initiate, organise and implement an instructional program to adapt the learning environment for each child. Her desire is to make the children feel motivated and to fulfil their academic potential and love of learning. The diversity that she has experienced within a variety of countries, provides the classroom with a holistic educational experience.
Mag has a Montessori diploma from St. Nicholas Training centre in London UK. She is currently working towards a Bachelor of Education in Early Childhood (0-8) which she aims to complete at the beginning of 2020.
Mag has the ability to support specialized learning needs to individual students to further allow for achievements to occur, and is flexible to jump from assistant to educator in the class when required.
"The child's development follows a path of successive stages of independence, and our knowledge of this must guide us in our behaviour towards him. We have to help the child to act, will and think for himself. This is the art of serving the spirit, an art which can be practised to perfection only when working among children." The Absorbent Mind.
Before emigrating to Australia with her family in 2010, Ishbel commenced her Early Years career in England where she was a Manager at Plus Three Nurseries Preschool.
Ishbel worked as a Group Leader and Supervisor at Belrose Kindergarten for six and a half years.
Ishbel holds a CACHE Level 2 and CACHE Level 3 Diploma in Children's Learning and Development and is very excited to be starting a Montessori, Birth to Three course in September 2019.
Ishbel loves to read and has learnt much through Maria Montessori's written work and is amazed that her work 100 years on is still relevant to our present modern day lives.
Tamara is an Australian award-winning composer for the screen as well a talented and engaging educator. She has won a string of notable awards, the recipient of prestigious grants for her writing and has conducted and recorded in world class facilities such as Fox Studios in Sydney and Los Angeles. She gives lectures in both Film Music and activities in the Orff approach to music education.
Tamara has presented workshops for teachers at events around the world including Main Presenter at ECCPA (Early Childhood Conference of Performing Arts, Melbourne) 2019, Malaysia, the University of Exeter, UK, Australian National Orff Conference, NZ Orff Conference, Chiltern Music Academy, UK, Explore and Develop Childcare (Frenchs Forest) franchise annual conference, and also runs teacher training workshops within universities, schools, preschools and daycare centers.
As well as teaching career spanning over 25 years, she has taught in many different schools across Sydney and the UK. For over 12 years Tamara taught and coordinated the Sydney Conservatorium of Music Open Academy Con for Kids Program, and instigated the Children's Holiday Program with children 3-10yrs, as well as adult classes in Scoring for the Screen.
Tamara has published 4 music teaching resources with Australian publishers Bushfire Press, and released a children's teaching album. At the beginning of 2019 she returned from a year 6 year period in the UK and currently is teaching pre-school to high school aged children.
.
Harini took up work as a teacher's assistant after a long break bringing up her two children, having previously worked as a Chemical Engineer. She has worked at Lindfield and Castlecrag Montessori Schools before joining Forestville Montessori School. Her decision towards a career change was due to her staunch belief in the Montessori philosophy and her own children having benefited from Montessori education.
Born and raised in Vancouver, Canada, Rosalie first developed a love of caring for children looking after her family from an early age. After graduating high school, Rosalie pursued her interests in early education by completing her Early Childhood Care and Education diploma.
Rosalie now has over 13 years experience working with children in different settings. She has worked in before and after school programs and childcare centres. After completing her AMI 3-6 Montessori Diploma at the Montessori Training Centre of British Colombia, Rosalie moved to Hong Kong where she was the director for the 3-6 environment at the International Montessori School of Hong Kong for 4 years before moving to Australia.
Rosalie joined FMS in 2015 and has been assisting in different 0-3, 3-6, and 6-9 classes. She is flexible and adaptable to the needs of the class and believes that a fun, safe and nurturing learning environment is the key to developing the full potential within each child.
.
Ayesha has worked in Australian Early Childhood settings since 2007. Her experience spans a variety of childcare settings with the most prominent being her 10 years of dedication at CA Montessori Children's Centre, North Ryde where she was part of the team implementing an AMI (Association Montessori Internationale) curriculum for children from 0-6 years of age.
Recent experience has taken her to the Child Development Institute, Northmead where she brought her Montessori training to multi disciplinary professionals working in teams to assist children with autism, spectrum disorder and developmental delay. Her enduring respect for children was evident in her work that needed to adopt innovative approaches to learning, inclusion and wellbeing.
It is her passion for an authentic Montessori environment that has led her to Forestville Montessori School. Ayesha has the ability to support independent learning, to guide and support children to assist them in Montessori activities to stimulate and develop their intellectual, physical and emotional growth.
She holds a Diploma of Children's Services, a Certificate III and an AMI (Association of Montessori Internationale) 0-6 Assistants Course, completed in October 2014.
Born in Bangladesh, Ayesha emigrated to Australia in 2006 with her family. She has two children, Sufia 11 and Zohaib 8, and says that the Montessori philosophy rules in her family. Both of her children went to a Montessori Centre from the age of six months. They were introduced to cloth nappies from day one. She involves her children in practical life activities which include cooking, cleaning, washing. Currently they have chickens as pets and are working towards getting eggs from them in future.
In her spare time, she likes nothing better than to take the family out for bike rides. She also likes to talk about her childhood and how it involved lots of practical life activities, just like the Montessori philosophy.
Elma made a conscious decision to change careers from corporate finance to education when her son was born. Her passion for Montessori education started when she was looking for a pre-school for him. Since then, she has completed:
• AMI Diploma in Montessori Education- Pre-Primary, RTI- Netherlands
• AMI 0-3 Orientation, Julia Hilson, MIB, India, 2020
• AMI 6-12 Elementary Orientation, Madhavi G, MTRI, India 2020
• AMI 12-18 Adolescent Orientation, Tina booth, Train Montessori, USA 2021
.
Adelaide has been involved in education since 2006, becoming a teacher's aide at a school for children for autism and working there for several years while she completed her education degree. She holds a Bachelor of education (Primary) and International Studies from UTS. Adelaide worked further with children on the autism spectrum as a teacher after finishing her degree but Montessori was where her heart lay and it was during this time that she commenced her Montessori training. She holds the following AMI qualifications;
AMI Montessori Children's House Assistants Course (3-6) 2015
AMI Montessori elementary Assistants Course (6-12) 2017
AMI 6-12 Elementary diploma, 2017-2020
Having completed her initial Montessori courses, she worked at Montessori East in Bondi first as an Assistant then as a teacher. In 2021 she took a full-time role at Inner Sydney Montessori School as a Lead Teacher.
Adelaide likes the vision that Maria Montessori had for the multi- age group classroom and enjoys seeing how the children support and teach each other, eventually becoming leaders in each cycle. She also greatly admires the bold vision that Dr. Montessori had for the child as a hope for humanity.
"The child who has felt a strong love for his surroundings and for all living creatures, who has discovered joy and enthusiasm in work, gives us reason to hope that humanity can develop in a new direction."
.
Rita is currently studying a Bachelor of Education (K-6 Teaching) through University of New England and has worked previously as a Director of Early Years Childcare. She has over 22 years experience leading and managing After School Care services within primary schools across the Sydney district.
Rita will also be providing education support across our Pre-School (3-6 Years) and Lower and Upper Primary (6-12 Years) environments. She is looking forward to meeting all the students and sharing their stories. She is very excited about developing an engaging After School Care and Vacation Care program for our students here at FMS. For Rita, this means building relationships with families and building on our vibrant community.
Rita enjoys pottery and caring for her many animals that she has at home.
.
In her role as Stakeholder and School Relations Coordinator, Alena provides a high level of customer service in the coordination of our enrolment and admissions process coupled with a focus on building relations with all of our families. In addition, Alena works on promoting our school to the wider community through the management of the marketing activities implemented throughout each year.
Alena has 14 years' experience in marketing and project/events management, both in Australia and the UK, with the majority of that time spent working for the Australian horticultural industry.
Alena really enjoys working at Forestville Montessori School and enjoys connecting with the lovely families that form part of our school community.
.
A chartered accountant, with over 15 years experience in the financial services industry in Australia and the United Kingdom, Ellena has worked with a wide range of clients from large banking corporations to small business and individual families.
.
Celina has twin girls aged 17 doing the HSC this year and has 2 Labradors named Luna and Bailey who are 5 years old. Celina's background has been in the corporate world as a Personal Assistant / Executive Assistant at PWC. While she was working at PWC she also volunteered at a local school in Forestville, Our Lady of Good Counsel, in their school office providing administration support to the Principal, staff and teachers. Celina loves being part of a school community and enjoys helping others when she can.
.